If you want to fish for one of the meanest, largest, hardest fighting fish in freshwater (BIG STRIPERS), give us a call. Licensed Professional Guide Michael Acosta will be glad to take you on the water. Feel free to call with any questions that you may have.

Phone: 817-578-0023

E-mail: michael.acosta@att.net

Unfair Advantage Charters can take you on your choice of several beautiful North Texas Lakes including Lake Whitney, Lake Granbury, Possum Kingdom Lake, Lake Proctor, Lake Lewisville, Lake Benbrook and Lake Bridgeport. Call or email to find out where the current best fishing is available for Stripers, Hybrids and white bass. Unfair Advantage Charters fishes out of the pictured Ranger 24 ft Bay Boat.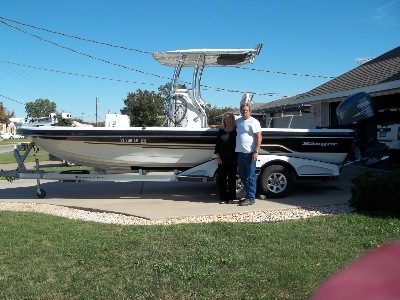 We will accomodate your fishing desires. Whether it is a small party or a large corporate group. We provide all the necessary tackle/equipment and bait and we will clean and bag your catch at the end of the trip. You need to supply the clothes you need for the weather, any drinks/food for your party during the trip and a valid Texas Fishing License.

Michael Acosta has been fishing all of his life and has been a licensed guide since 1998. Michael Acosta was the Texas Striper Association champion in 2003 and the National Striped Bass Texas State Champion in 2003. He also placed 4th in the regional National Striped Bass in Arkansas in 2003. Michael Acosta was also the President of the Texas Striper Association for several years. Unfair Advantage Charters has been on several fishing shows including Fox Sports Southwest and the ArkLaTex Sportsman and has been writing a weekly fishing article for the Hood County News for over 16 years. Michael Acosta has lived in Granbury Texas for over 30 years and has been fishing central and north Texas lakes for over 35 years. See some pictures of recent catches below!!! If you hold your cursor over the picture, a note will appear telling you where the fish were caught.